Virtual Reality Men's Non-Surgical Hair Replacement
Individually Customized Men's Hair Replacement Systems for Men's Hair Loss
Virtual Reality Hair Replacement for Men – Jacksonville
Virtual Reality non-surgical hair replacement for men is the non-surgical hair replacement system endorsed by Hollywood celebrities and directors on and off the screen.
Now men in the Jacksonville and north Florida region can have a full head of natural hair and the style you want after your first visit to IHRS in Jacksonville. Recognized by the international media, Virtual Reality hair replacement for men recreates the look and feel of your actual growing hair, bringing back to life the youthful, stylish appearance you want and deserve.
Daily maintenance is just like your own hair: wash and condition, style and go with the confidence the comes with a full head of great looking hair.
Individually Customized Hair Replacement for Men
Virtual reality custom hair replacement systems use a state-of-the-art thin, flexible base that latterly is like a second skin with 100% natural human hair inserted in a matter that gives you natural hair growth patterns. The look we are able to achieve gives you a totally natural appearance that is virtually undetectable to both sight and to the probing touch.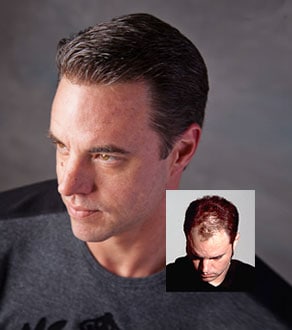 Virtual Reality, unlike a wig or traditional men's hair piece, becomes part of you, not something you wear during the day and remove at night. The method utilizes a thin, breathable membrane like base into which real human hair is inserted, matching your own color, desired density, curl pattern, and texture in the style and length you want.
The result is a totally natural, undetectable hair restoration that is virtually undetectable even to the most probing eye or intimate touch.
Hair is Back. On Your Terms.
What you get with Virtual Reality hair is a customized hair replacement that restores your natural appearance with hair that is so natural it looks to be growing out of your scalp. You get a natural looking hairline so comb your hair back if you like, no one will know unless you tell them.
You can have back the same hair coverage just like you had before you noticed your hair was thinning. It will be your secret that you ever had a hair loss issue. Take a look at the unretrouched photo to the right to see what I mean.
You are not limited to any hairstyles, it is completely up to you how you style your hair. You can even comb it back without worry of exposing your front hairline.
Non-Surgical Men's Hair Replacement Systems Jacksonville
Do something for yourself and get a hair replacement solution that is completely natural, comfortable and it can happen today for you with a free hair loss consultation.
Let's Get Started!

Hair loss and thinning hair is often emotionally traumatic. It can affect how you see yourself and how you interact to people around you. For over 25 years, we have been helping men and women restore not only their hair, but also their confidence.
Whether you are experiencing thinning hair and want to stop your hair loss, or want more hair, we offer the latest clinically proven hair loss treatment and hair restoration solutions for men and women of all ages and hair types.
We want to help you find the hair loss solution that is right for you. Fill out our form to get started with your free, private consultation.
SPECIAL OFFER!
$250 OFF
Schedule Your Easy, Private Consultation Today & Save!